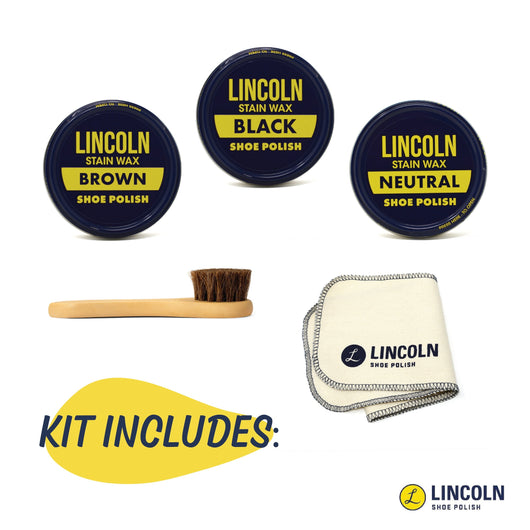 Lincoln Shoe Shine Kit
Regular price $22.99 Sale
What's included:
1 Lincoln polish Black
1 Lincoln polish Neutral
1 Lincoln polish Brown
1 Lincoln Shine Cloth
1 Black Horsehair Applicator


Your business shoes are often the most expensive part of your wardrobe, but they also get the most wear and tear. Keep your leather shoes looking shiny and new with this complete shoe care kit from Lincoln Shoe Polish.
This kit includes three 3oz tins of our famous polish. Our Lincoln Shoe Polish is the product that launched our company back in 1925. We use more carnauba wax than any other major brand. It's why shoe care professionals prefer Lincoln. You'll get a hard, glossy, durable shine after just one application of Lincoln polish.
To apply an even coat of polish, we've included our top-quality wooden dauber brush. Genuine hair bristles hold polish yet clean up easily once you're done.
Polishing your dress shoes with rags means leaving lint and fibers in the soft polish to dry on your shoes and mar the finish. Lincoln Buff Cloths are cut from new cotton flannel and are blanket-stitched to prevent fraying and shedding. The included cloth features soft cotton flannel nap on one side, while the reverse side is cotton canvas for strength. Directions: Apply shoe polish with the included dauber or a soft, clean sponge. Allow to dry, then polish with a soft brush. Buff to a glossy "spit shine" with these buff cloths, using quick, taut strokes to heat the wax while pressing and blending the polish into the leather.
Cloth can be hand-laundered to maintain softness and prevent polish from hardening. Wash cloth in warm, soapy water, rinse well, and allow to air dry after each shine session.